Our Team
A collaboration of two great friends who want to take you on an adventure that you will never forget. Dalton and York will push to the very end in order to make the hunt a success and to ensure that you enjoy every minute of the safari.
Dalton Tink
Professional Hunter
My name is Dalton Tink and am a partner in Dalton & York safaris. I started this career at a very young age having grown up with my father who was an avid hunter and cousins who were all just as committed. It didn't take me long to start learning the way of the bush with so much influences. It has been a passion of mine since I was old enough to walk with my father in the hills and escalated once I could shoot and hold my own. I qualified at the young age of 21 years old as a Zimbabwean professional hunter and have never looked back, it is more of a passion to me than a job. I love the old school fair chase, following tracks of those old dugga boy warriors, getting out smarted but never giving up until the job is done. It is extremely rewarding after putting so much time into a hunt and getting the reward after a long-fought hunt. I sum up hunting in many ways, the experience of the hunt, the comradery of both client and the ph with his team and then the social aspect of becoming friends, sharing stories around a fire and supporting each other through tough times during the hunt.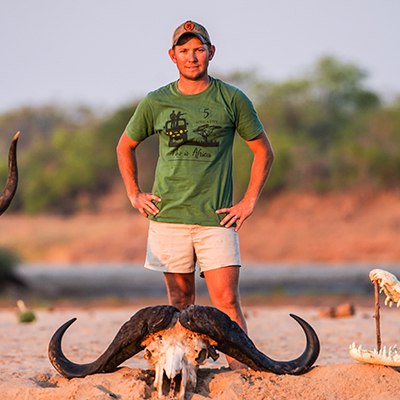 York Mare
Professional Hunter
Born in December 1988, I was raised on a farm in the South-East Lowveld of Zimbabwe, this is where I found my love for wildlife and hunting. At the age of 16, I moved to South Africa where I completed my diploma in WIldlife and Lodge Management. I moved back to Zimbabwe in 2009, where I began my apprenticeship with HHK Safaris and qualified as a Professional Hunter in 2012. I have been extremely fortunate as I have hunted in Mozambique, Cameroon and majority of the areas in Zimbabwe. Hunting to me is not a job, but rather a passion. Every safari I conduct, I maintain a strict standard of safety, integrity and ethical hunting. I am extremely proud of my team that has been hunting with me for 11 years. Zvito, my head tracker and Sunnyboy, my driver/tracker are from Dande South Zambezi Valley. They are both incredibly talented when it comes to tracking, aggressively pursuant and extremely experienced, which produces more success on every hunt.
WHAT OUR CLIENTS SAY
"In 2020 i had both the honour and privilege of Hunting with Dalton and York safaris. Having personally hunted for over 20 years I can testify that they are not your average safari outfitter...They are unique. "The knowledge, expertise and zest portrayed by Dalton, York and their respective teams is difficult to accurately put into words but must be experienced in order to understand its uniqueness. This was an experience I will not forget. "Our safari harvested 5 magnificent buffalo bulls and a 70 pound Elephant bull all hunted in the conventional free range way over 21 days in untouched wild African wilderness. This was a safari of a lifetime with professional hunters who are without doubt at the forefront of their industry in both know how and execution" "This was the real deal, in real Africa with real outfitters, the like of which I have not experienced before" "Will I be back? Without a shadow of a doubt"
I give my highest recommendation to Dalton I would say that Dalton put safety and ethics first. My first safari in Zimbabwe was with Dalton in 2013 for leopard, tuskless elephant, hippo and a few plains game. He did a fantastic job as my PH and he always take safety first, it was a tuff hunt with a lot of pressure, but he was very keen not to give up and at the last day we shot a great cat. During the other days when we checked baits we took the chance to hunt the other big game with great result. Since then I have been hunting with Dalton almost every year, all the time for big and dangerous game. I have also brought a lot of hunting friends to Zimbabwe and always had Dalton to organize the hunts for them with a lot of success. We will come back again soon
Alexander Magnusson
SCI Royal Nordic Chapter, President